10 tips for a second life for my kid's clothes

read
36
times
---
---
It's time – your little baby is growing up and they've already gone up a size.
But that's impossible, you only bought these trousers a couple of weeks ago!! 🙁
Don't worry, we've got the solution – or rather, the solutions. Are you going to throw away something they've only worn a few times? No chance. And we're not going to argue with you about that.
At Tape à l'œil, we're committed to producing and consuming more responsibly. And we want to set an example (a bit like your kid's older sibling, really) 😊
Of course you're not going to throw these trousers away. That's why we're giving you these 10 tips to give a new life to your kids' clothes (which you might as well use for your own clothes, while you're at it 😉).
TIP no. 1 : I'm a barbie girl, who wears a sock dress 🎶
(Sorry if that song's stuck in your head now.)  Your kid will love this tip! No more Barbies running out of clothes because your kid doesn't like the dress any more.
Our advice – offer to restock their dolls' wardrobe with their old socks! Once the socks are too small or if they've lost their other half, with just a pair of scissors you can make pretty dresses, skirts or even jumpers for your kid's Barbie. If you make pretty miniature clothes with your mini-you, we want you to share them with us! We're looking forward to seeing them 😊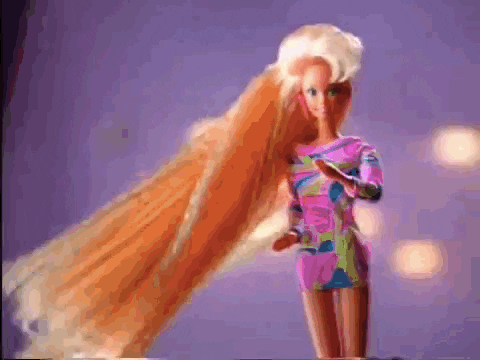 TIP no. 2: TAOnewlife, our second-hand platform ♻️
Did you know that we have a platform where you can sell your child's clothes? Well, now you do! Our community platform TAOnewlife was built in collaboration with our customers by our customers, with the aim of giving your children's wardrobe a new life.
Our kids are growing up too fast, way too fast… And most of the time, their clothes are still in perfect condition! So to avoid having to throw them away while you're making room in the wardrobe, you can sell your second-hand Tape à l'œil products on the TAOnewlife app! (Or you can buy from there too – it's up to you, if you have space left in your wardrobe, we won't object, and it's not a bad idea 😉)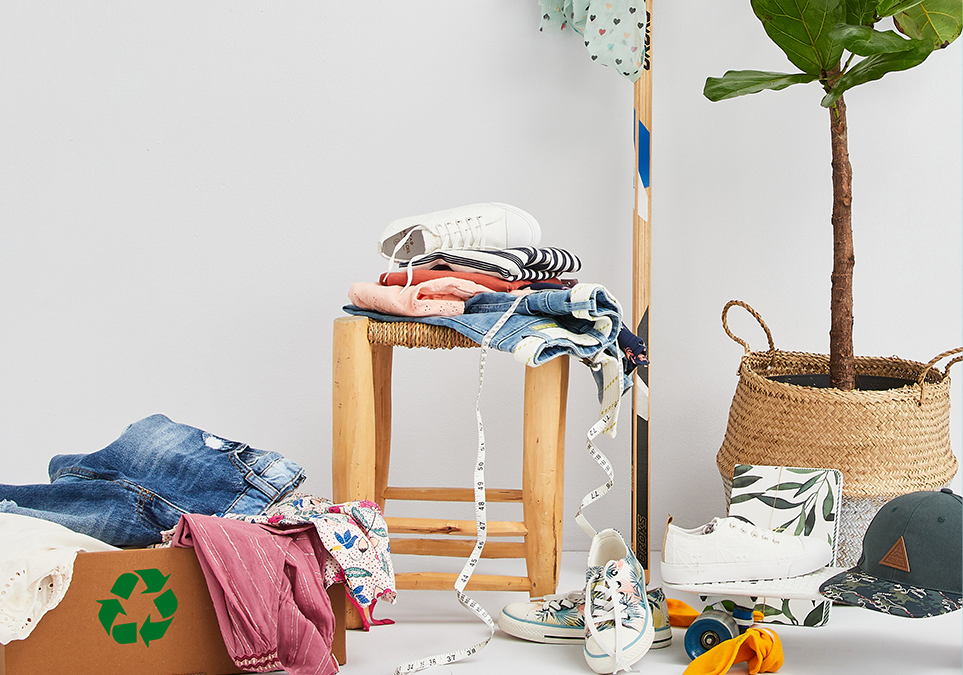 TIP no. 3: Making bracelets with their t-shirts
Often very colourful, and with pretty patterns, our clothes would be perfect on your kid's wrist, wouldn't they? A very fun activity to do as a family. With just a pair of scissors and a cotton t-shirt, you can make bracelet strips! For boys or girls, this activity is really nice to do yourself or with your kids, at home or even during recess… 😉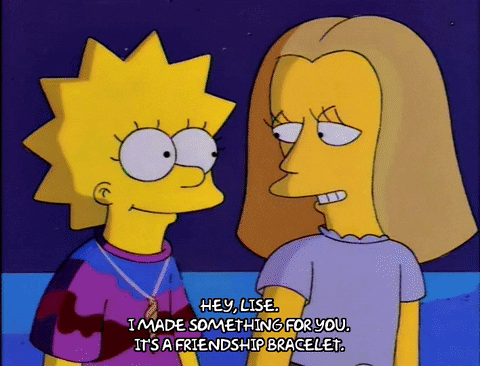 TIP no. 4: Making scrunchies
Another way to recycle your child's clothes and create a fashion accessory: a scrunchie 😊
You can find them on our website here:  I'm off to see hair elastics !
They came back into fashion a while ago now, for both children and adults, because they go perfectly with every outfit. If you make them at home, you can play around with the different materials and colours of your clothes. So you can make your own personalised scrunchies. This accessory is aesthetic but also practical, because you won't have to worry about loose hairs getting in the way when you're trying to eat!
TIP no. 5: Reusable makeup wipes
Do you want to cut down on waste? Here's a tip for something you can use instead of disposable cotton wool. You can create reusable wipes with just some old clothes. (It's practical and we'll all benefit from it!) 😊
To do this, you'll simply need scissors, a needle and thread, the recycled garment and a terry cloth or very soft cotton, to sew onto the back. If you like the idea, you can also use this trick to make a washcloth! 😊
Your kid will be able to take a very gentle bath with their very soft cloth and natural treatments that smell sooooo good. Speaking of which, we offer some on our website.
I want to see JOONE products 🧼
And for mums, we also have this water-based make-up remover glove ! Click on the image to see 😉
TIP no. 6: A very soft comforter: they can't get enough !
What if the super-cute jumper your baby used to wear became his cuddly toy? The materials we use to make our clothes are often very gentle, because we're thinking of our gentle little sleepyheads! 😊 So don't throw away their warm pyjamas – hold on to the fabric to make their super-cute comforter. Even just a small square of their old favourite jumper, we're sure they'd like it! 😉
Otherwise, you can just give them one of the comforters we offer on our website
TIP no. 7: How about saving the jeans pockets?
Mum, can you put this in your bag? Do you have any pockets you can put this in, please, Dad? We know the song… When our kids don't have pockets on their dresses or shorts, they quickly get rid of them to keep their hands free! 😊 What if we added pockets where there are none? Like for example on this dress or these Bermuda shorts?
It's simple: hang a belt on the loops of her old jeans, cut out the pockets below the seam and pull up to the top of the trousers. And there you have it, a nice little shoulder bag to hang around your kid's waist! In addition to being practical, this accessory is the perfect finishing touch to his outfit ! 😋
TIP no. 8: Turning a sock into a sponge
We all have that one sock which has lost its brother in battle, after a wash. By the way, if you have any idea how to stop that happening, we're all ears! In the meantime, we have the solution to this little everyday problem! Did you know that you can turn a sock into a sponge?
All you need is a piece of cardboard, a pair of scissors, a ruler and a pencil. And, of course, the famous survivor of the washing machine. This activity is really fun to do as a family, especially if you like weaving! You can tell us all about it. Oh yes also, if you're going to use it to clean your dishes, remember to wash the sock before you make your sponge! At least for the sake of whoever has to eat off those plates afterwards… 😉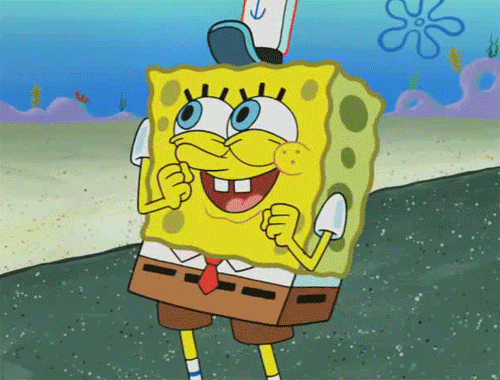 TIP no. 9: A tote bag
Of course, you may have worked out that we won't be using socks for this one. We want our bag to be big enough to actually put things in! For mum, dad or for the children, a tote bag is always useful! Especially when it's made by hand and with love.
With a jumper, a t-shirt or even jeans, you can create your own bag and personalise it with whatever patterns and colours you want. We're not going to throw away that pretty jumper they used to love so much! It was their favourite. Don't panic. Nothing is lost, everything is transformed. So let's go go go, we're going to make a beauuuutiful bag! 😊
TIP no. 10 : The tenth tip is yours
There are other tips for recycling your kids' clothes, that's for sure! What if this little tenth was you sharing it with us? Don't be shy 😋 We know you're creative and have a little tip to share with us (or even several, let's be crazy) 😊
We can't wait to read your comment under our article or your little message on our Instagram account! And on top of that, we can't wait to try out your tips 😊
Now that you have the keys to giving your kids' clothes a second life, it's up to you! Tell us what your favourite is! And maybe we'll make a tuto to do it together on video, what do you say? 😊