OUR PRODUCTION
Every stage in the production of our collections, from their creation to their manufacture, can have a positive or negative impact on people and the environment. We are committed to improving each of these steps so that, little by little, they become more responsible and respectful.


YEAR-ON-YEAR CHANGE IN THE NUMBER OF ITEMS MANUFACTURED BY TAPE À L'OEIL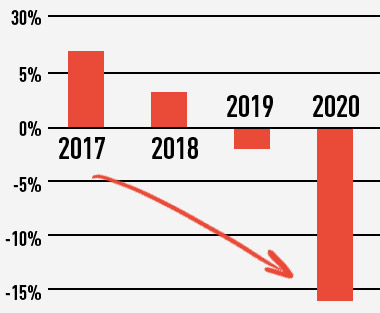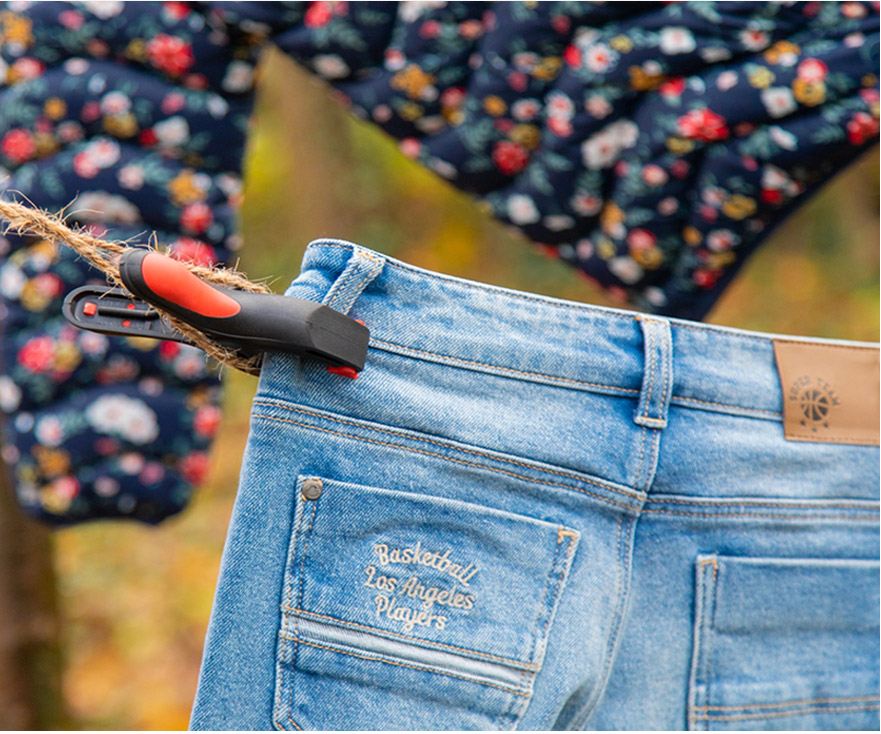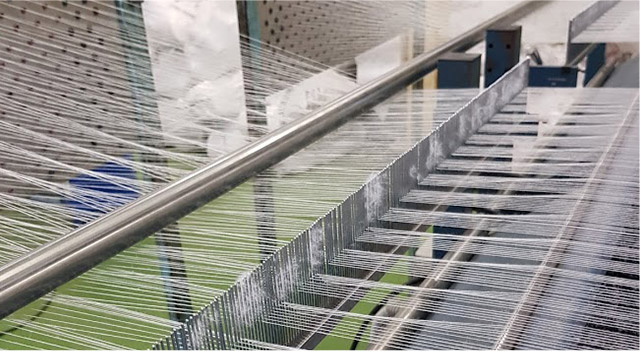 ESTABLISH A LASTING PARTNER RELATIONSHIP WITH OUR MANUFACTURERS.
We consider the factories that make our garments as our true partners, not just as suppliers. To work as closely as possible with them and to build long-term relationships, Tape à l'Oeil has offices based directly in our primary production countries.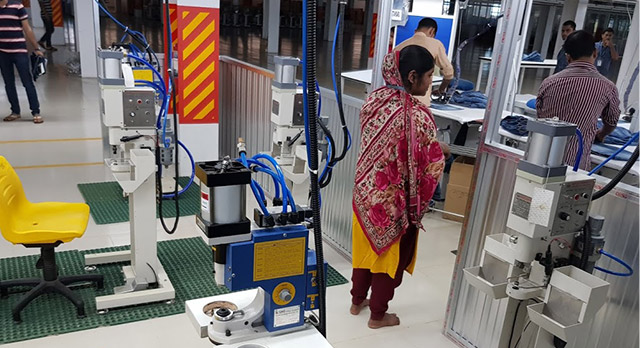 Being part of the ICS initiative which guarantees an independent and internationally recognised social and environmental standard.
To go beyond our internal audits, Tape à l'œil joined the ICS initiative in 2017. ICS member companies come from different sectors (textiles, footwear, furniture, electronics and food) and work together to achieve sustainable improvements in working conditions for employees in each factory. Member brands mandate and manage ICS audits performed by third-party auditing companies accredited by the ICS. Then, each company shares the results of the audits, and the corrective action plans carried out in each workshop and makes them available to other companies working with the same manufacturer. This collaborative initiative provides support for factories in complying with the rules and enforcing the requirements of the ICS Social and Environmental Code of Conduct. 100% of our manufacturers have now been audited according to the ICS audit grid.
For more information: class="a-underline">https://ics-asso.org/fr/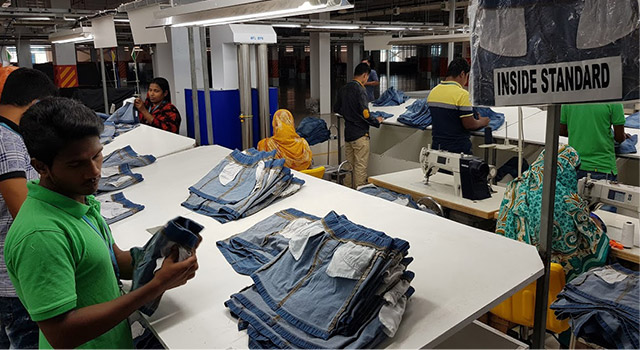 ENSURING GOOD WORKING CONDITIONS IN OUR FACTORIES.
Being responsible also means making sure that the men and women who make our products work in good conditions. So, before we collaborate with a factory, we audit it according to a framework defined in our code of conduct by the conventions of the International Labour Organization (ILO), by the principles of the Universal Declaration of Human Rights and by the social legislation of the producing countries. It is a way of ensuring that our partners meet our social and environmental commitments. In particular, we check that factories do not employ child labour, that workers benefit from good health and safety conditions, that their pay is fair, that their working hours are decent, that they are free to join associations, that their human rights are respected, that no forced labour is practised and that no discrimination is applied. Today, 100% of our workshops have been audited according to our Tape à l'œil code of conduct.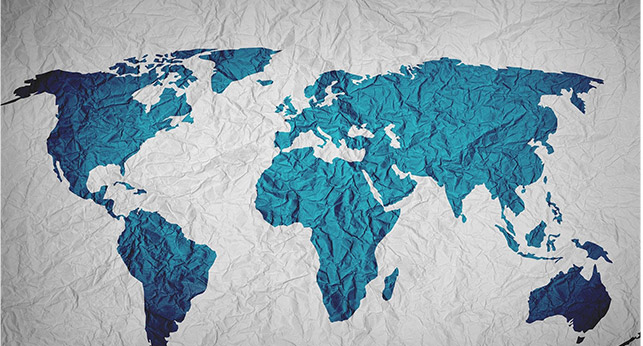 TO BE TRANSPARENT WITH YOU!
Wanting to move towards more responsible production also means sharing with you, completely transparently, where our products are manufactured.
We work with 169 factories in nine countries.
Bangladesh accounts for 42% of our production, China: 29%, India: 15%, Pakistan: 6%, Turkey: 4%, Morocco: 2%, Mauritius: 1% and Cambodia and Myanmar: 1%.
Today, 100% of our workshops are monitored by social compliance audits defined by the International Labour Organization conventions, 65% of which are monitored through the ICS initiative.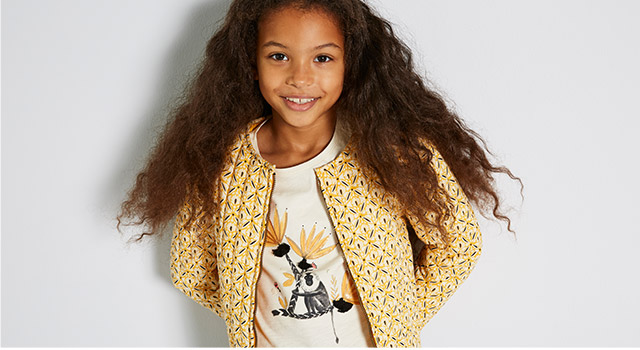 PRODUCE LESS AND MORE FAIRLY.
Because of the high cost to the environment of products that are manufactured but are never bought and therefore never worn, we have taken steps to reduce our production quantities. As a result, this summer 2020, we have reduced the number of pieces manufactured by 5%. By producing less, we hope to produce the right quantity to meet your needs and limit the number of unsold pieces never worn by children.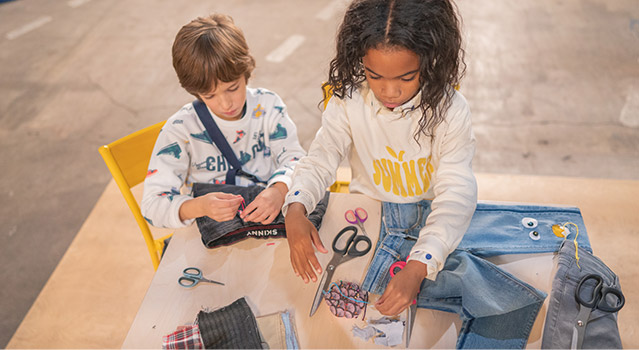 GIVE A SECOND LIFE TO OUR SAMPLES.
All the samples of clothes we work with to create the collections, and which are still in good condition, are given to organisations or resold to Tape à l'Oeil collaborators. Those that are damaged or holed are collected for recycling.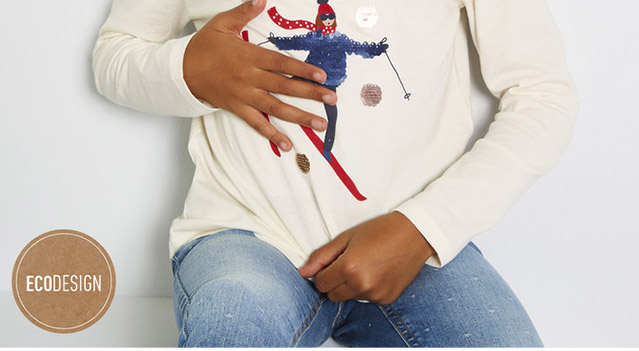 Eco-design collections
Clearly identifiable, thanks to our TAO ECODESIGN label, 27.5% of our products are made from eco-responsible raw materials (such as organic cotton, Tencel or recycled fibres) or with manufacturing processes that limit our impact on the environment (for example, LessWater denim, that uses less water).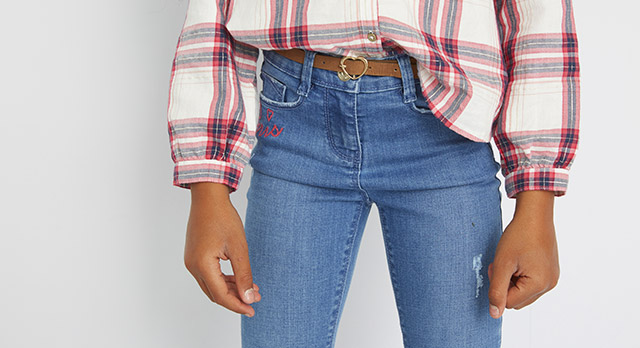 Comfortable collections, the result of innovation
Take a look at the innovative jeans developed in Coolmax® material in our new Baby Boy, Girl and Boy collection.
This thermo-regulating material is manufactured in such a way as to regulate the temperature of the jeans.
In summer, it stays cool and in winter, it's warm!
It makes you want to try it, doesn't it?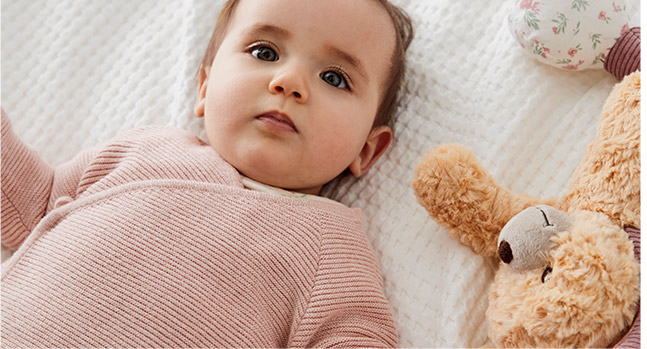 Tested and approved collections
At Tape à l'Oeil, to guarantee the quality of our products, we test our garments before we sell them, to ensure their quality and therefore their durability. We do three types of tests:
- in the laboratory to evaluate the resistance of the materials used.
- in wear by children, in real conditions, to test the comfort and the well-being of our collections.
- in washing: we run the products through the washing machine several times to make sure they don't shrink, that the colours don't change and that the patterns don't fade.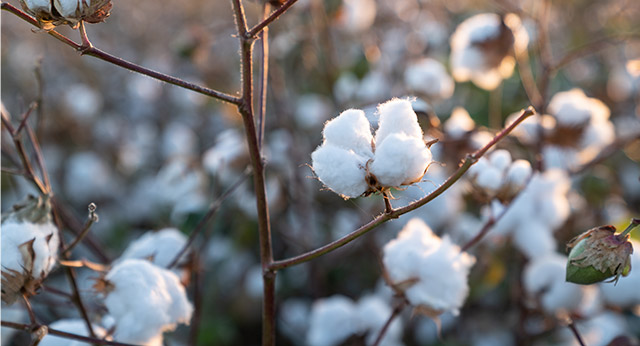 ORGANIC COTTON
We prefer organically grown cotton, which is kind both to the environment and your children's skin! Growing organic cotton consumes less fertiliser, GMOs and pollutes less water. Not to mention that organic cotton, bleached without chlorine, is non-allergenic! These are the reasons why we focus on it when we design our collections. So today, 95% of our t-shirts are made in organic cotton. And more than 80% of our pyjamas and underwear too. What's new this year? The majority of our sweatshirts are also made in organic cotton! And to keep our smallest children comfortable and be kind to their skin, 100% of our bodies, sleepsuits, bibs and our "First Days Suitcase" collection are made in organic cotton.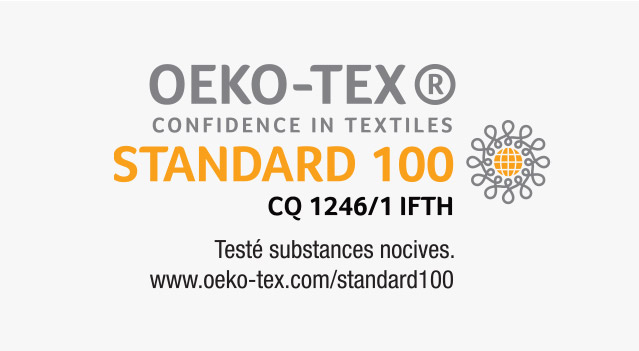 THE OEKO-TEX® LABEL
To offer the very best for your baby's skin, all our bodies and sleepsuits are certified by the independent international STANDARD 100 by Oeko-Tex® label.
To achieve certification, our products are subjected to tests at each stage of their manufacture to guarantee you the total absence of toxic products.
One more way to guarantee you products in which we have full confidence.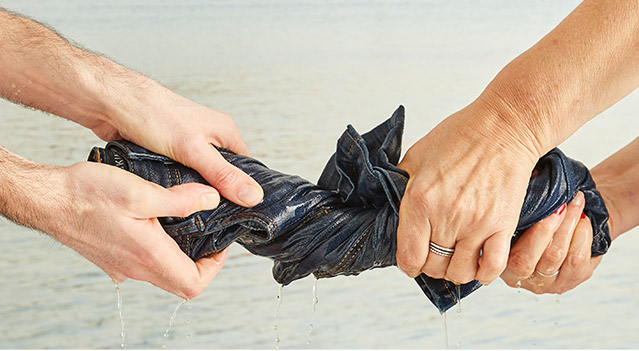 LESSWATER JEANS
Denim production consumes a lot of water. At Tape à l'Oeil, we have decided to use the LessWater* technique.

This technique lets us reduce the amount of water we use in the washing process by at least 50% compared with conventional jeans.

Today, 100% of our Tape à l'Oeil denim products are LessWater*: our jeans and other denim products too: dresses, shirts, shorts, dungarees, jackets and so on.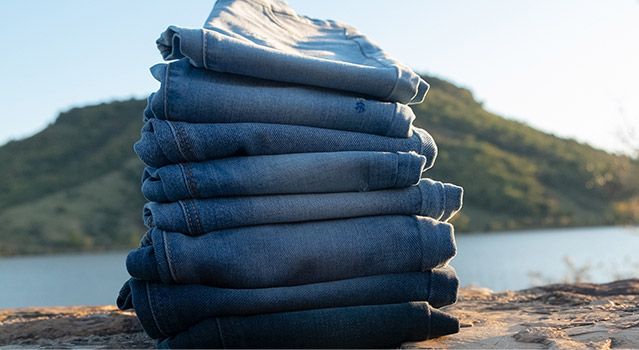 LOW IMPACT DENIM
We are developing "LOW IMPACT DENIM" products in our collections.
The production process used in these garments has an optimised impact on the environment because:
- it consumes less water
- it consumes less energy
- it cuts down on the use of chemicals
- it controls the impact on the health of the producer
These "LOW IMPACT DENIM" products guarantee that the production chain is completely transparent from the supply of the fibres and the dying of the fabrics to the finishing processes used in the jeans. A way of offering more robust and more eco-friendly jeans.
Look out for our "LOW IMPACT DENIM" products in our Baby and Kid, Girl and Boy collections: trousers, shirts, skirts and leggings. There's plenty of choice!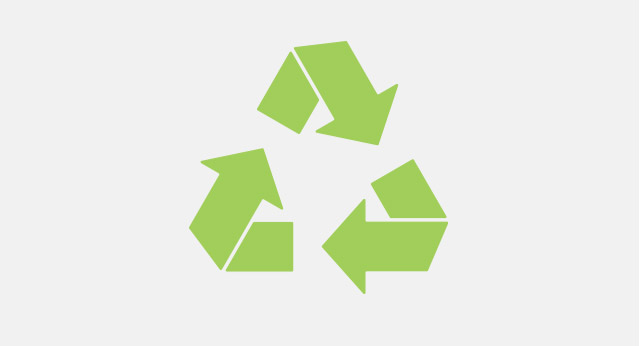 LES FIBRES DE POLYESTER RECYCLÉES
Want to know why we're fans of polyester fibres made from recycled plastic waste?
Because they are recycled fibres that retain the same qualities of strength, thermal insulation and comfort! Wow!
So with all these great qualities, we decided to use these recycled fibres in all the padding of our coats and all-in-ones, as well as for our hats, snoods, gloves and jumpers.
So much plastic that won't end up in the environment!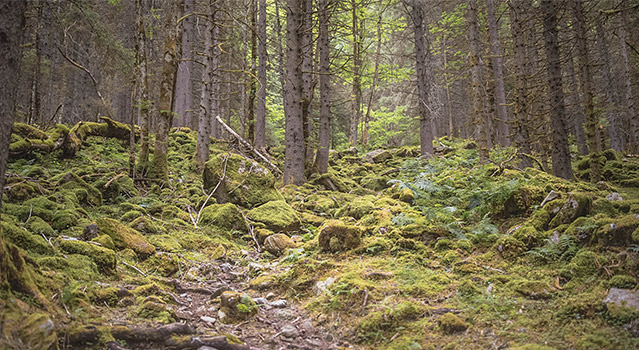 ECO-FRIENDLY VISCOSE
We've fallen under the spell of environmentally friendly viscose (including Tencel®, lyocell and Ecovero®) that is kind to the environment and your kids' skin too!

Here are 3 proofs that this fibre is just AMAZING!
- Producing this fibre, made from wood pulp which comes from sustainable forests, requires less water and fewer pesticides than traditional viscose.
- Natural, soft and fluid, this fibre combines optimum comfort with respect for sensitive skins.
- This fibre stays silky, wrinkles very little and withstands repeated washing!

Each season, you will find dresses, trousers, jumpsuits, shirts and shorts made from eco-friendly viscose in our collections. We offer your children maximum comfort!